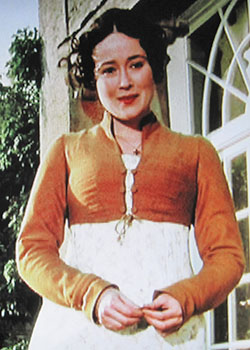 The Colin Firth/Jennifer Ehle version of "Pride and Prejudice" has to be one of my favorite films of all time! In particular, I just love pretty much the entire wardrobe of Jennifer Ehle as Elizabeth Bennett. In particular, I love the mustard-colored spencer, and floral print dress that she sometimes wears with it (and other times with a black velvet spencer of a similar style, or even by itself). As far as bonnets go, the puffy gathered bonnet is definitely my favorite, and I think it will be a good size and shape for me since I have a very small head, and sometimes large bonnets with wide brims look a bit ridiculous on me!
For this ensemble, I'm not going for 100% authentic reproduction, but rather, more of the feel of the outfit. I am aiming to match the style, but not so worried about the fabrics themselves.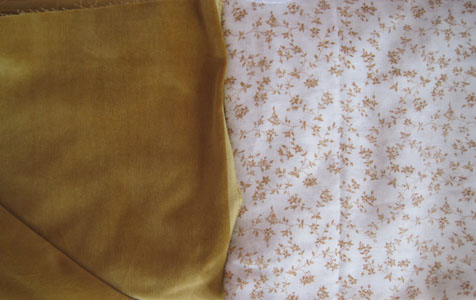 The dress is a pretty simple style, with really the only flourish being the ties at the wrist, which I adore. My fabric is not close to the original, but I think it has a similar feel and color.
For the spencer, I really decided to do my own thing! I stumbled on to this lovely gold colored cotton velvet, and felt it would be close enough to give the feel of the one in the film, and also look great with my dress fabric. Plus, the price was fantastic!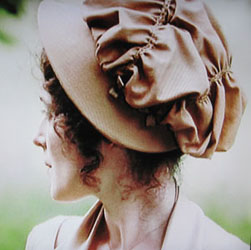 I only have one word to describe this bonnet:
Love!!!
It's just so fabulous, and I want the style exactly like this. It looks like it is just simply gathered, but it does seem to have little bows where the gathers end, so I suppose I could get a similar look by making channels and running ribbons through them, tying them in bows at the end. I'll have to experiment and see what I end up liking the best! For this one, I am taking the biggest detour fabric-wise, and completely switching out the color. I don't have any place to buy nice silk taffeta locally, and I thought trying to match or coordinate a fabric that is close to the original, and still looks nice with my fabrics for the dress and spencer, was going to be tricky. So I decided to just pick another color all together, and I went with a sort of olive green color
So there are the plans! Patterning and mocking up of the dress are already well under way, so stay tuned for another post soon!