I really had no intention of attending the Commonwealth Vintage Dancers Regency ball in Salem. . . But then, only a few weeks before, I found out my good friend was flying up from Virginia and attending it! Of course I had to go! But somehow, there was no Regency evening wear in my wardrobe. Shocking! With only a few weeks to the event, and knowing I wouldn't be me if I didn't hand-sew the entire thing, I did the only logical thing: Took on a big, ridiculously, very trimmed project!!!
After two weeks of hand sewing like a maniac (in between full time work, part time school, and other miscellaneous things like not neglecting time with my husband, LOL!) I produced this: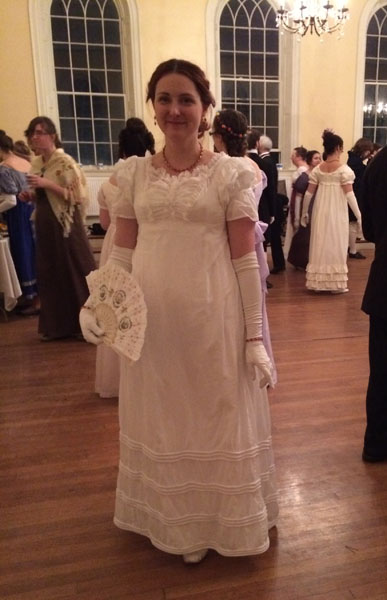 I still have a few things to do to it. Mainly, I need to add the puffings to the skirt! Also, the undersleeve should have a drawstring and bit of lace, and the oversleeve wants some bonus trimmings as well. . . But I'm pleased to say that construction-wise, it was done. As in, no safety pins holding this baby together! Hooray for that!
This is a recreation of the 1822 "Brudekjole" (aka wedding dress, but also very appropriate as ball attire) from the Danish "Nationalmuseet." You can see the original on their web site,
here
.
Since they provide the pattern for this dress (YAY!) I used that. I scaled the pattern up by hand using a gridded board and ruler, and stayed pretty faithful to it as is, save for a few minor changes to make it fit my particular size/shape. I had some translating adventures to try to figure out all the construction details provided, but I think I understood it fairly well! Things that didn't seem to make sense to me at first became clear as I actually reached that point in the pattern. So, it all went very well indeed!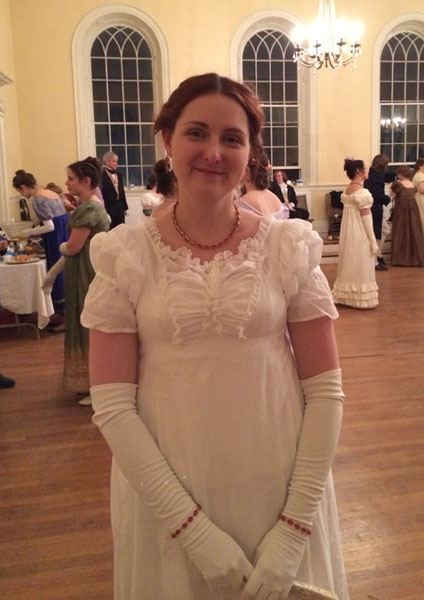 The gorgeous parure (aka jewelry set) I'm wearing is made by the talented Taylor (my friend who flew in for the ball!) and you can purchase such lovely jewelry from her at her Etsy shop here:
Dames a la Mode
All in all, the evening was perfect! I didn't actually end up dancing, but greatly enjoyed spending time with my friends, both local (including the lovely Sarah, who took these pictures for me!) and long distance, as well as meeting new folks, and of course, playing dress-up. ;) And, I had a blast stepping up to the challenge of pulling this off in such a short amount of time. It was a win-win!