Well, the long story short is that I used old measurements for Glenn and the mock ups I assembled today were not a good fit. It looked so ridiculous - especially since the shirt has no sleeves yet - and I can't recall when we last laughed so hard! So I'm not sharing pictures of that with you, but I did go ahead and have some fun modeling the pieces for you myself. Over my modern clothes. I'm very silly today, I know. . . But if you don't laugh, you cry, right? Anyhow. . .
I call this one "Proud Mr. Darcy":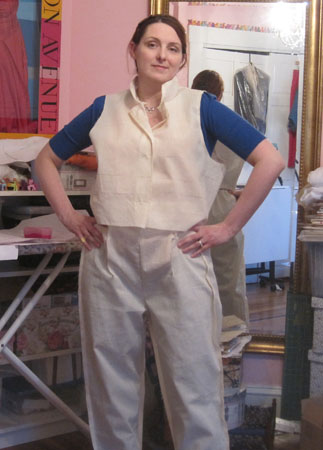 Regency gents know
all about
poppin' their collars! BWAH HA HA HA HA!!!!!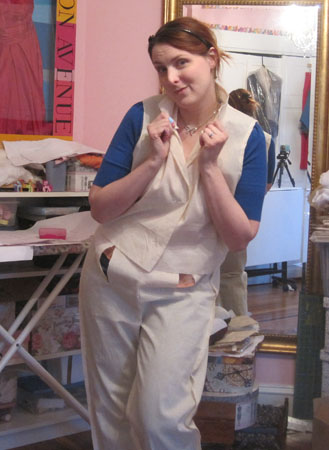 Um. . . I don't even know. Maybe I'm showing off my waistband? Or the fact that I didn't do any of the behind-the-scenes pieces on the pants so I'd be giving you a bit of a show if I weren't fully dressed in modern clothing underneath!
Right. Enough silliness. I'm going to see if I can get the patterns all traced and new mock-ups cut before it's time to bid farewell to this weekend!