I've just returned home from the CVD Regency Intensive Dance Weekend, and thought I would promptly post my few pictures. Why so few? Because we were dancing almost non-stop! There were five hours of classes on Saturday, followed by a soiree in the evening. The pictures below are from that soiree. . .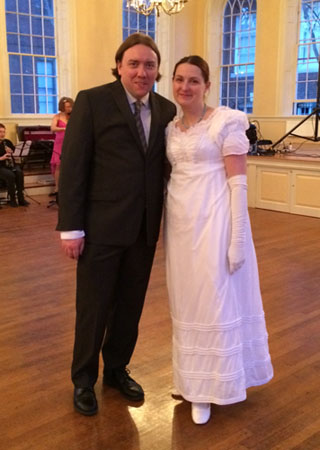 Glenn looking thoughtful and dapper: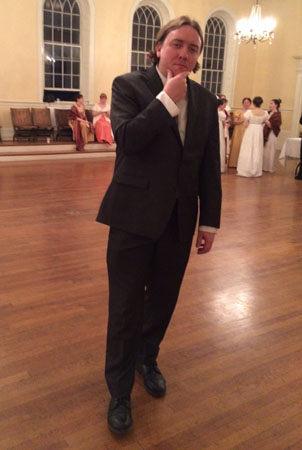 And myself looking perhaps a little tired and overwhelmed (as indeed I was):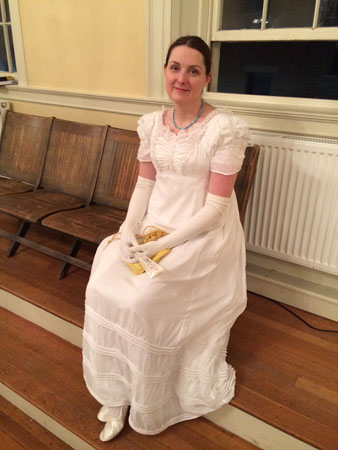 Guys, they mean it when they call this weekend "intense." Indeed, for someone who has almost zero dancing experience, and especially someone like me who is better off learning things a small chunk at a time as opposed to ALL THE THINGS at once in one half of a day, it really is quite grueling and overwhelming. That said, the CVD people are AWESOME. They are so friendly and welcoming, and patiently guided us through each dance we messed up (which was almost all of them, unfortunately!) I did learn the basic steps so that theoretically, I can dance a dance if someone just tells me what the "moves" are and queues me as to when I'm supposed to do them vs. wait for the head couples to move to a certain point. . . But if nobody is prompting me? I get lost. Also, when they taught the basic travelling step at the start of the weekend, I apparently did it completely wrong, and didn't know that until several dances in, when another dancer kindly caught me aside on a water break and very patiently helped me re-learn it. But, since I'd missed the chance to repeatedly practice it (correctly, anyhow), it's like I couldn't get it into my muscle memory because I was so busy trying to memorize everything else. Anyhow. Really long story short is that it was a lot to absorb in a condensed amount of time, and I felt so bad about messing up all their dances, especially since we seemed to be the only ones who weren't pros! So, we decided that instead of doing the second day, we'd go off and have a tourist day in the north shore. Hence, no pictures of the grand ball. Instead, we took a little driving tour of the area had some delicious ice cream by the sea in Gloucester, and finished up the day by taking in a movie. Very relaxing, which is just what we needed after the non-stop pace of the day before!
I'd started a second ball gown (since there would be two evening events, and I thought it would be more fun to have a different dance for each!) but to be honest, by the time the classes ended, I already suspected I wouldn't be attending day two, so I didn't make an attempt to swiftly finish the second dress, and instead just wore my fancier ball gown to the soiree. Here's a sneak peek of the second ball gown that is not quite finished yet: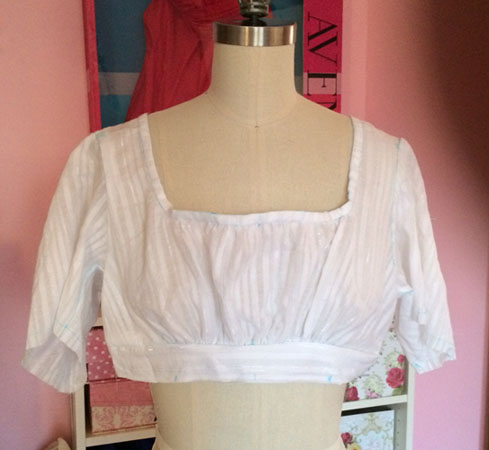 I really love this fabric, which is a wonderfully lightweight cotton with self-stripes as well as a thin silver metallic stripe running through it here and there (and cost me only $2.50/yard!) I finished all the seams as I went along, so I really do just need to add the skirt (panels are already seamed and ready to go), sleeve bands, and a hem. Exciting! But, I'm going to set this aside for a few weeks while I put finishing touches on my 18th century attire since there are now less than two weeks to my next costuming adventure: Fort Fred! Hooray for an exciting April full of sewing/costuming adventures!