I finished one more accessory for my trip to King Richard's Faire this year. . . Though to be honest, while it's plausibly historically accurate, it's not the correct period for the rest of my faire garb! This pouch is medieval, while the rest of my ensemble is meant to be c. 1560s-70s. What can I say? When I saw a historic purse that involved cats, I could not resist. And I'm quite certain there will not be anyone at the faire secretly snarking about my mis-matched eras since I fully anticipate being surrounded by people in costumes spanning medieval through Victorian, plus modern day, and things that never existed at all! ;)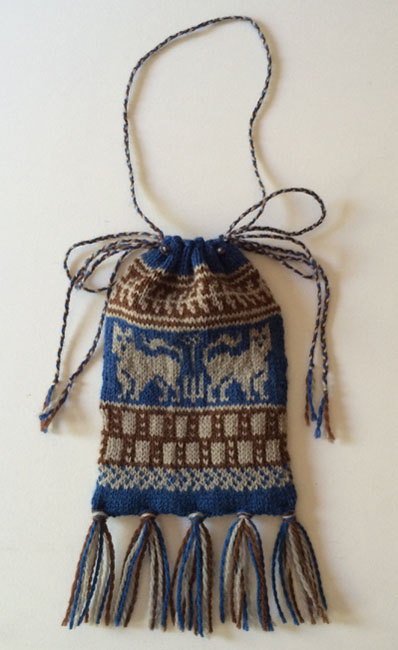 And then just one more shot, with the ties not drawn up. . .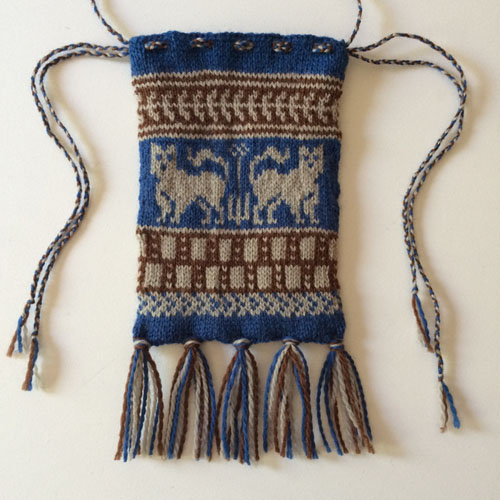 This was such a quick, fun little project! Mine is quite small, as I used fingering weight yarn and size 1 1/2 needles, but just by altering your yarn/needle sizes, you can make this in all kinds of sizes. As it is, mine turned out so that it fits my phone and money perfectly, and really, what else do you need at Faire (assuming your phone is also your camera)? ;)
For more details (and a link to the pattern/charts), feel free to check out
my Ravelry page for this project
.