While I was weaving the tartan on the floor loom every Monday night in class, I wasn't exactly sitting idly at home the rest of the week! In fact, I wove quite a few things on my beloved rigid heddle loom, including three scarves. . .
The first one came about because I was ready for something beyond plain weave, and went looking for something interesting using pick-up stick techniques. Webs' "Charlemont" (draft #55, available for free on their web site,
here
) fit the bill!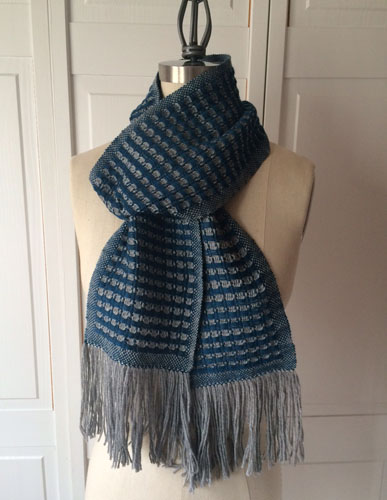 I used Valley Yarns Charlemont in the Light Grey and Teal Blue colorways, and I think this scarf only ended up using about half of each skein. This yarn is just so silky and soft that it's a pleasure to even hold in your hands. I found that it held up to the weaving quite well, and I would weave with it again, although I suspect it might also be a real treat to knit with!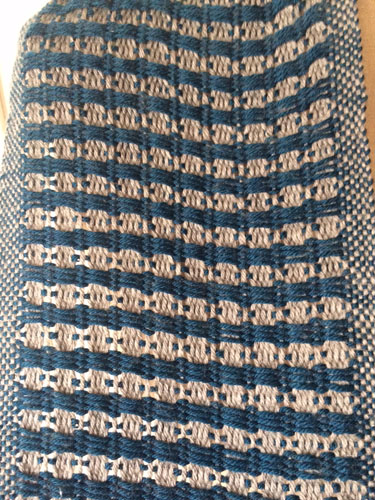 I think it's fun the way it looks completely different from the reverse than from the front. I almost think this would have been cool to stitch the ends together and make an infinity scarf out of it, so that when looped around the neck the second time, it could land with the reverse showing, but I guess I could always wrap the scarf that way!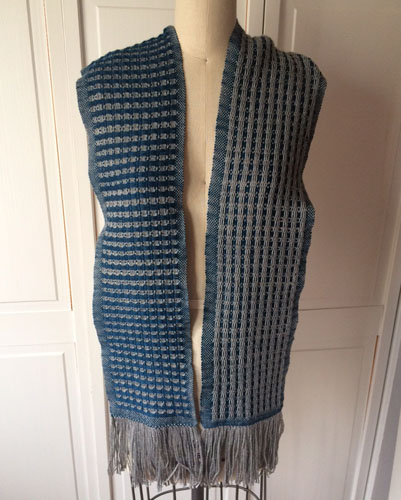 The pattern/draft itself is pretty good, but I ended up with more plain weave ends on one selvedge area than the other. It doesn't feel like enough of a variation to have been intentional, which leads me to believe there is either an error in the pattern, or I did something wrong. I really was quite careful about triple checking everything and know that my number of ends is perfect, and I am wondering if the culprit may have been inserting the pick-up stick. The pattern doesn't tell you in which direction you should insert it, so I had to guess, and perhaps if I'd gone the other way, it would have magically worked out. It really is too bad because that tiny detail has resulted in the scarf feeling uneven, and I likely won't often wear it because it drives me insane to look at the unevenness of it! Also important to note is that the resulting scarf is ridiculously prone to snagging. But all of that aside, I really do love the pattern/texture of it, and it was fun to weave something more challenging for a change!
After the slow-going Charlemont, I was ready for something simple, quick, and satisfying. I decided to make up a plain weave scarf in a variegated purple for my Aunt.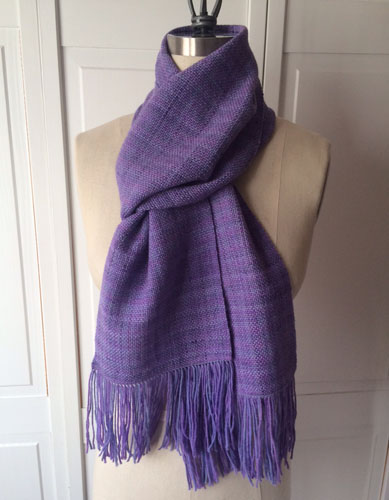 This is Knit Picks' Stroll Tonal in the Blue Violet Color. I planned my own draft, such that I would use up the entire ball of yarn and not have leftovers. I absolutely
love
the way this one turned out!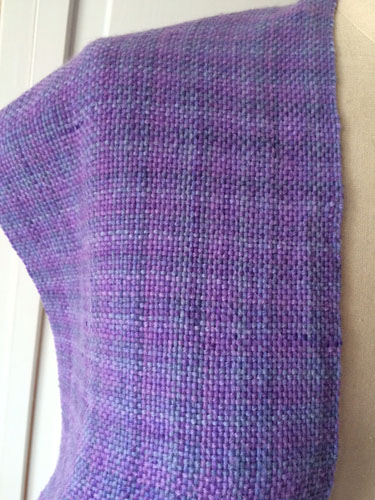 The subtle variegation gives the scarf interest, and I don't think it needs anything more than plain weave to stand out! I gave the ends delicate hem stitching, and elected not to twist or braid the ends. I think this will be fine because this merino blend has enough nylon in it that it didn't seem to felt much at all in the washing/blocking, which means those ends shouldn't get too ratty.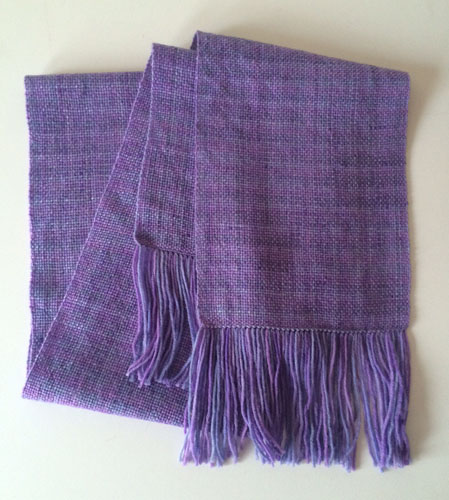 I loved the Stroll yarn so much, that I decided to use it again! This time, I used the "hand-painted" variation, in the color "Koi Pond." I think that's the perfect color name, because that's exactly what this makes me think of!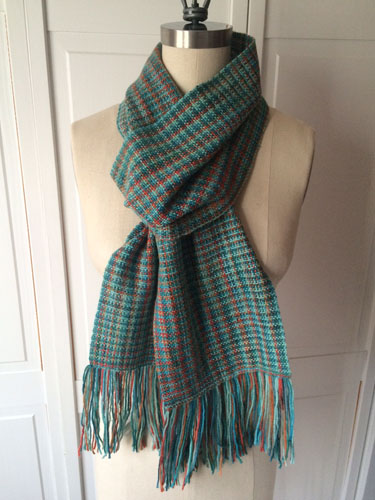 I used almost the same draft as I did for the purple tonal scarf, but made it a hair wider and shortened the ends so that I would have more yarn for using weft-wise, which therefore allowed me to make it a wee bit longer than the purple one. I absolutely love the way this one has a plaid-like feel, but that also, sometimes the teal would land always on the right while the orange was always on the left, and then shift so gradually as I wove that it almost gave a gentle rippling effect, which is entirely suitable for a pond-themed project! ;)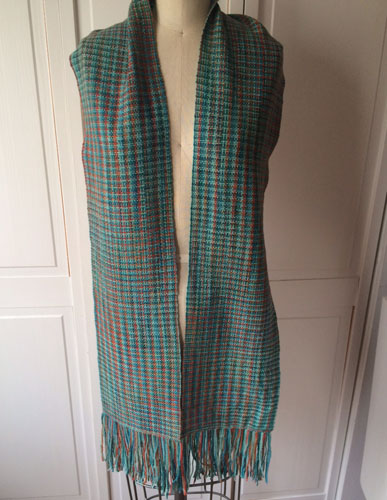 I also love the way even the hemstitching is variegated. . .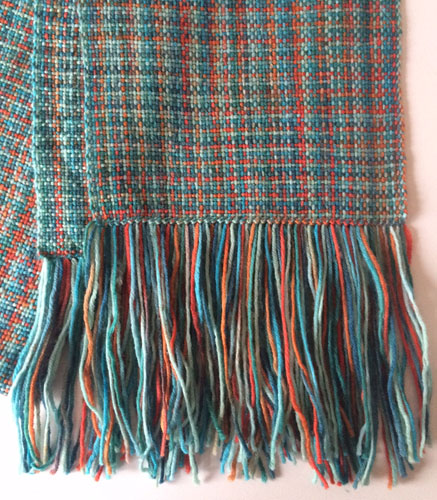 Orange is not my favorite color, and originally I was planning to give this scarf away, but once it was complete, I found I absolutely loved it and think it might be staying with me. . . Although goodness knows how I'll ever be able to wear as many scarves as I've been making lately!