I've become a bad blogger, but it's not entirely my fault; full time work plus part time school has been sucking my soul! I'm studying to be a programmer and I'm in the advanced classes now, so it's time-consuming and draining. However, I have managed to do some sewing in between! I have several works-in-progress that I've been doing off and on, and then one complete new ensemble, including underpinnings: my first 1920s!
When I heard that WGBH was putting on a Downton Abbey 1920s themed event, I knew I was going to have to attend! Because there were only a couple of weeks until the event, I knew I wasn't going to be attending in costume, because that would just be crazy. But I started working on a copy of an antique 1920s brassiere in my collection anyhow, and bought some silk for a 1920s dress I'd make "some day," because now I had 1920s on the brain. . .
Long story short, I decided the day before the event that there was no way I was going without a costume, and I pulled another classic Jenni over-night costume-making adventure! I made this entire dress - plus a slip - plus finishing the brassiere repro - in just under two days. Madness! The only thing that wasn't finished was that I didn't hem the dress. That probably seems lame, because seriously, how long does it take to hem a dress, right? But I was literally sewing the straps of the brassiere and slip while it was on my body, while I was frantically dressing to go. We were a little bit late, but that's fashionable, right?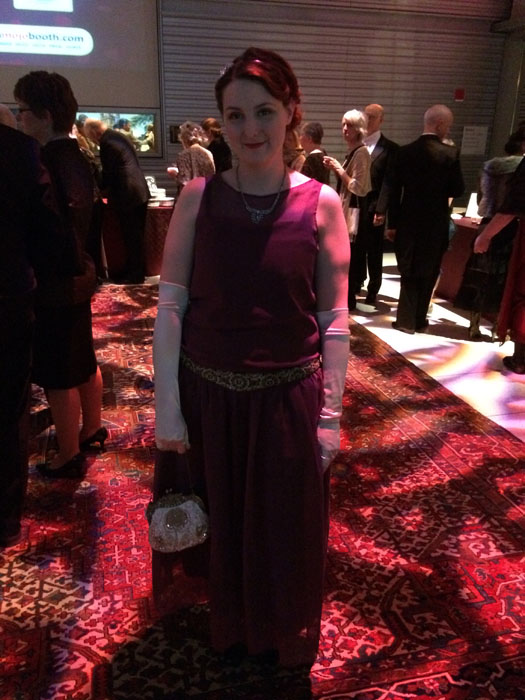 This event was so much fun! They had everything you can imagine, from dancing and live 1920s style music, to a fashion show, to delightful champagne and 1920s themed cocktails. One of my favorite bits of the evening was getting pictures in front of the backdrop of Highclere Castle (aka, Downton Abbey). . . (Please ignore that my dress is too long; it will be correct once it is hemmed!)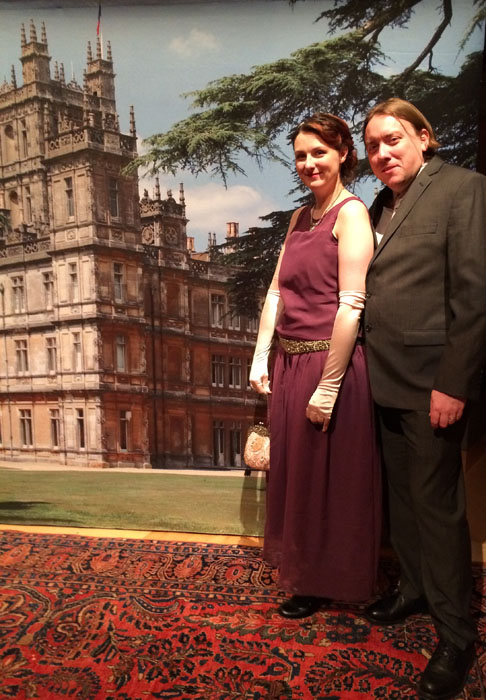 We also had a blast with the photo booth. Of course, our pictures clearly show what serious people we are. . .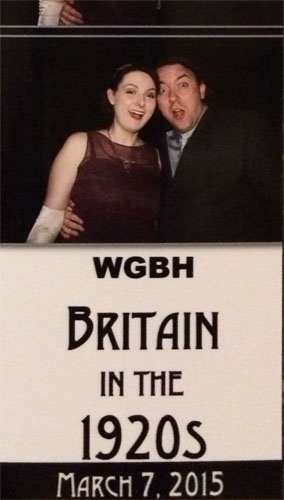 My dress was inspired by one I saw from an early 1920s National Suit & Cloak illustration. When I was still in my "I won't make a dress for the Downton event, but I want a 1920s dress
some day
" frame of mind, I was all about embroidering the dress. . . But when I decided to make a dress over night, obviously that was out of the question! I'll go back and add some embroidery at a future date. . .

However, without the embroidery, my dress was looking quite plain. I was going to make a self-fabric sash, but then I remembered this antique belt I had in my collection, which was a gift from Glenn last year. It was too small for me, but I added a small piece of fabric temporarily to make it work. I think it worked out pretty well!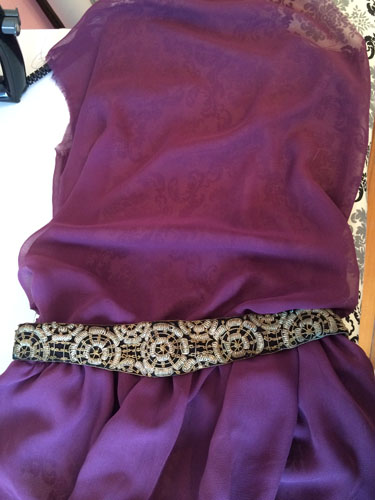 The dress is made of silk (georgette, maybe?) and this is fabric likes to slip around and shapeshift, and can be a beast to work with, but here's my pro tip for you: Put a bit of tissue paper beneath the fabric, sew through the fabric and tissue, and then tear away the tissue. (Actually, what I'm using here is medical exam table paper. So there's another pro tip for you: Medical exam table paper! Not only is it good for sewing slippery sheer silks, but I also use it for tracing patterns and making initial drafts of my own patterns, because you can see through it to trace, and it's flexible enough that you can pin it and see how it's shaping over the body or dress form, yet just sturdy enough to put up with that sort of thing. And it's cheap!)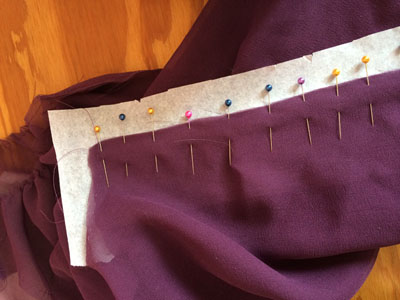 In the midst of all this sewing, I decided I would try - for the first time ever - to get marcel waves in my hair. So I took a patterning break and set my hair, and later a sewing break to see how it turned out. Before I brushed it out, it was pretty awesome! But then I brushed it and it sort of went crazy. . .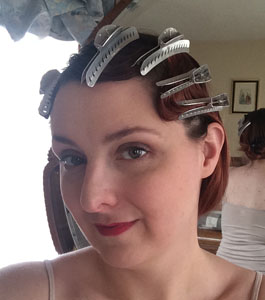 &nbsp&nbsp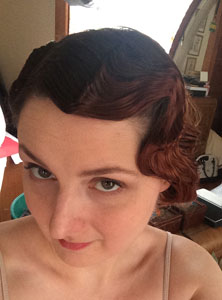 &nbsp&nbsp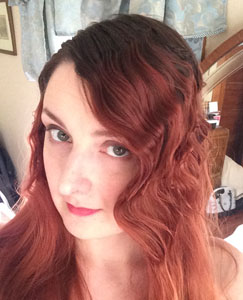 I think if I had more skill/practice, I could have worked with it more and made it awesome, but of course I didn't, plus I had plenty of sewing ahead of me! So I just ended up curling my hair and doing the best I could to give it an early 1920s look, which is more appropriate to the era of my dress than the severe marcel waves anyhow.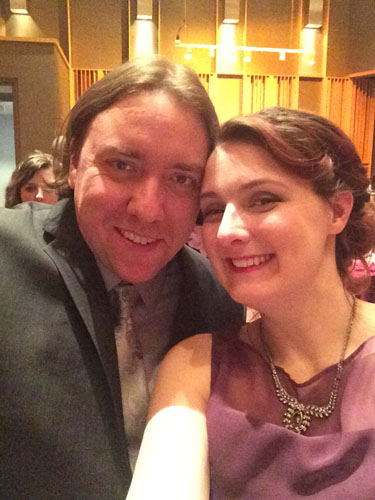 All in all, it was a spectacular evening, and I hope they will host it again next year!